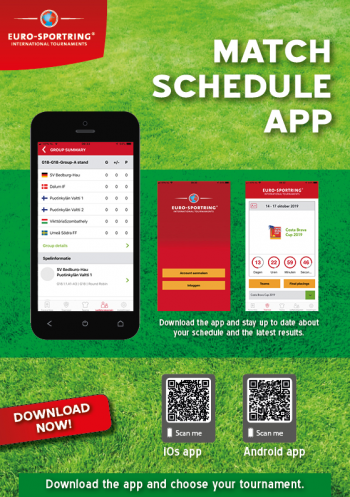 Dear reader,
Unfortunately we are forced to inform you that the Basinus Trophy will not take place.
Since the outbreak of the Corona virus we have followed the developments closely. For a long time we hoped that the event could take place. However, the outbreak has only worsened in recent months, resulting in the cancellation of the Basinus Trophy.
We are very sorry for you and our partners in the first place. We would have liked to offer you a challenging sports weekend. All clubs have been informed by now. If you still have questions, please contact your Euro-Sportring contact person.
Euro-Sportring thanks you for your trust, supporting messages and understanding. We will make sure that in 2021 there will be a new tournament program ready for you.
See you at one of our Euro-Sportring tournaments.
Rogier de Kreek | General Manager
Euro-Sportring introduces: The Euro-Sportring Match Schedule App

Download the app and see your match schedule, actual results, standings and the latest information about your tournament. Download here.

Dear friends, dear guests,
we are very happy to welcome you to the 15th edition of the Basinus Trophyl! 68 teams from 7 nations will fight for the win of the Basinus-Trophy on the sports venue of the FSG Bensheim. The tournament will take place on 5 pitches and in 5 age groups from U11 to U19.
We are looking forward to have exciting and fair matches. We hope for many happy faces and memorable days in Bensheim!
With joy,
Your Organisation Team | Basinus Trophy 2020

Welcome to Bensheim to the 15th edition of the Basinus Trophy
Dear sport friends,
It gives me great pleasure to welcome all teams on behalf of the Board and the management of the Euro-Sportring Foundation. I hope that the participants will enjoy their stay in Bensheim and that they will contribute to the spirit of international sportsmanship. From this place, I would like to thank the members of the organizing committee of the Basinus Trophy the Board of FSG Bensheim and the municipality of Bensheim for making this event possible.
I wish everybody a great time and every success!
Gerhard Aigner - Switzerland
Chairman Euro-Sportring Foundation
Honorary member UEFA

Liebe Fußballfreunde, liebe Gäste,
Die 15. Basinus Trophy steht vor der Tür. 68 Teams aus 7 Nationen werden in Sportpark West, auf dem Gelände der FSG Bensheim, die Basinus Trophy ausspielen. Unglaublich, aber unser Turnier wächst von Jahr zu Jahr und wird immer umfangreicher. In 5 Kategorien, von der U11 –U19 , und auf 5 Spielfeldern, werden wir die Sieger der Trophy bestimmen.
Wir hoffen auf spannende und faire Spiele. Wir freuen uns auf viele nette Menschen, fröhliche Gesichter und auf ein Fußballflair, von dem nach dem Turnier alle sagen können: Das war einfach toll.
Mit sportlichen Grüßen

Euer Orgateam

Willkommen in Bensheim bei der 15. Ausgabe der Basinus Trophy
Liebe Sportfreunde,
Ich freue mich sehr, im Namen von Vorstand und Direktion der Stiftung Euro-Sportring alle Mannschaften bei der Basinus Trophy willkommen heißen zu können. Ich hoffe, dass die Teilnehmer ihren Aufenthalt in Bensheim genießen und dass sie ihren Teil beitragen können zu einer sportlichen Atmosphäre rund um die Spielfelder.
Ich bedanke mich zugleich bei den Mitgliedern des Organisationskomitees der Basinus Trophy, beim Vorstand und Helfern der FSG Bensheim, sowie der Gemeinde von Bensheim für den Einsatz, der dieses Ereignis möglich macht.
Wir wünschen allen Beteiligten eine schöne Zeit und viel Erfolg!
Gerhard Aigner - Schweiz
Vorstandsvorsitzender Stiftung Euro-Sportring
Ehrenmitglied der UEFA